Well folks, I have something to write about that is quite frankly a mind fuck for me. I'm almost embarrassed to write about it but I'm also in complete disbelief. As some of you know, I grew up in the restaurant business. My dad put his blood, sweat and tears into that restaurant for some 25 years. In 2003, he died tragically from an epileptic seizure. Two years later, the restaurant was sold to people that trashed it.
Earlier this year I received a message via Facebook that a guy had bought it (I don't know, perhaps he rented it) and was going to restore it. Months went by and the rumor was he just didn't have enough money to restore since the owners before him had trashed it so much. Fast forward several months later and I receive another Facebook message but this time from the dudes partner. The original guy was no longer part of the operation and the business will have a grand opening the Saturday before Thanksgiving. Oh, and I also had these messages:
Honestly folks, I don't know what to believe. I began to get defensive at one point and said, "if you screwing with me…." in which he swore he's not in the business of screwing with deceased people's kids.
Audio
I decided to reach out to the paranormal group that had come into the restaurant to investigate. I sent them an email but didn't hear back for a few days. Once I did, we scheduled a call to chat. Again, I'm not saying I 100% believe in this or don't. I will say when you have a loved one pass away (especially a parent), you're willing to go to the ends of the Earth to either prove or disprove that this is happening. Here's what the paranormal person told me:
The owner was at his wit's end with the unusual activity. Things were moving, there were shadows, lights turning on and off and strange noises. He was legit scared.
There are 7 ghosts, one of which is an extremely chatty woman. That could have been many of our patrons.
Other than the ghost they think is my father, there is another named Kiera. I don't know a Kiera.
The investigator has audio where the voice says"this is Michael". They explained I need a sound bar or something to magnify the sound because you can't hear it just from regular audio. I have yet to blow up the sound.
A Second Ghost Investigation
Because your's truly is bat-shit crazy, guess who's going into the restaurant in a few nights (well, that's if everyone's schedule works out) for a second investigation? Me, and I'm scared shitless. My sister is coming too and maybe a friend. I'm hoping my husband will come too because I'll need someone to hold me while I rock back and forth, sucking my thumb. My 10-year-old wants to come too and while initially I thought it was ok, I've since had second thoughts. I don't need my child scarred for life should the restaurant turn into a scene from Ghostbusters.
Anyway, I'm half-tempted to broadcast the event on a Facebook Live page. Would you watch? Even if you don't, I'll write a follow up post and post lots of pictures of the night if it goes down.
Happy Ghost Hunting!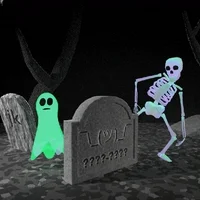 P.S. It's not lost on me that just 3 months ago, I wrote a post called The Problem With Ghost Hunting Shows.
P.P.S THE GHOST HUNT IS SET FOR 10/5/19 AT 11:30 P.M. EST! IT WILL BE ON THE HOT MESS MEMOIR FACEBOOK LIVE PAGE!